Questions?
A New Road, Introducing the aladdin Brand
On every journey, there is a time to say goodbye to the old – and hello to the new – telling the world, "This is who I am."

This is that time for Aladdin. As we roll in a brand new look, we want you to know we are delivering the same great excellence across all of our services.

To better understand the difference that this change will make for our customers and partners and the future of our company, please read the FAQs below, and always, reach out to us directly with any questions. Thank you for trusting Aladdin – and being a part of our story.
Frequently Asked Questions
1.) Go to aladdincap.com
2.) Click on "My Aladdin Online Portal"

3.) Once loaded, click on "Credit Checks"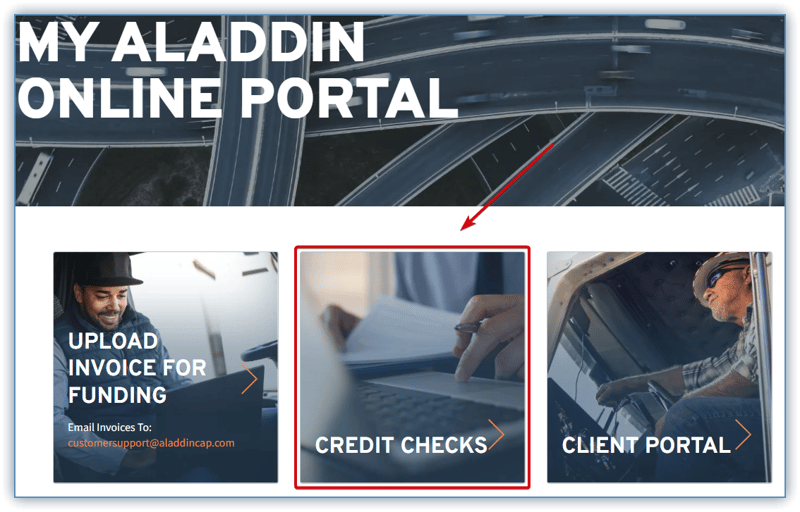 When you signed up with Aladdin for factoring services, you should have received a "Welcome Packet" with your log in details for the Credit Check portal.





If you don't have access to your Credit Check username and password, please request your log in details from your Account Executive.
After logging into the Credit Check site, the "Top Approved Brokers" list is on the left-hand side of the page





S

earch the "Top Approved Brokers" first,

THEN

, if broker is not listed, search in Aladdin Credit Check by MC#





The listed brokers are APPROVED for ALL loads. There is no need to pull credit or contact the credit department to haul a load from any broker on this list.





OPTIONAL

-

Download a PDF Version of this list to print / save

(the list DOES expire)




Log into the credit check website

Enter your username and password

Type in the debtor MC number in the "MC#" field

Hit the "Search" Button to populate your results at the bottom of the page

If multiple options appear after you hit "Search", you will choose the line item with the highest count of matches (furthest right-hand column)

Please contact your Account Executive to have your account reviewed for an increase in the number of pulls your company is allowed
When searching an MC number, after you select the line item you want to pull credit on and hit, you will get a pop with a red thumbs down (denied for factoring), green thumbs up (approved for factoring), or an orange caution sign (you need to contact credit@aladdincap.com for further review on approval / denial)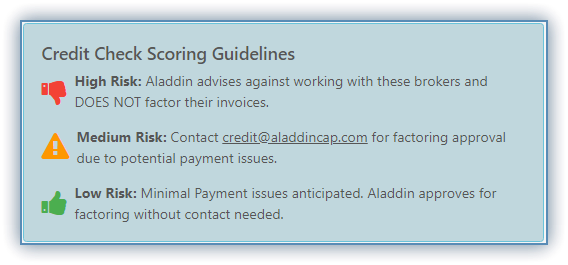 Email the rate confirmation to your Account Executive for further review before taking the load


Utilize your resources available to you and investigate!!! (Google the phone # to ensure you are talking to the company you booked the load with)